Do you want to spend the least amount of money and energy to make a fire pit above the ground?
After looking through countless methods and trying some of them ourselves, we have compiled the easiest ways to build a DIY fire pit.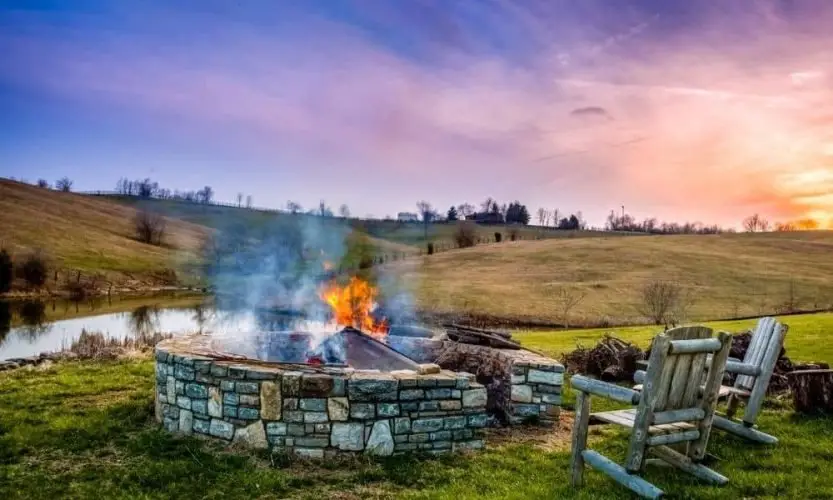 This article also touches on things you should know before fire pit installations and designing your seating area.
How to Use a Portable Fire Pit on Grass
o use your portable fire pit on grass;
Choose a leveled spot in your backyard to prevent the fire pit from tipping-over. It should be away from your house and other structures.
Smear the grass patch section where you will put your unit. Don't put too much water to prevent a sipping hazard.
Have a water source nearby to add water as it evaporates.
What You'll Need for Your DIY Above Ground Fire Pit
Rake (Optional)
Shovel
Heat-resistant blocks ( each at least 4-inch thick)
Measuring tape
Wood stakes
Marker, i.e., spray paint or chalk.
Crushed gravel
Mallet or hammer
Level
Fire ring (Optional)
Capstones or patio stones
Masonry adhesive
Procedure for Construction of a DIY Above Ground Fire Pit
Choose a spot for your DIY above-ground fire pit.
Remove all dirt, pieces of wood, mulch, and so forth from the spot. You can scrape off the grass and use it to fill up open areas in your outdoor living area.
Place your stone blocks on the ground. Arrange the stones according to the design of your DIY above-ground fire pit. Make sure you do not leave any gaps between the blocks.
Maintain an open section of about 2-3 feet in the middle of your row of stones. If you want a circular design, go for circular stones to make it easier to get the design right.
Measure a two-feet distance from the edge of your fire-resistant blocks.
Mount your wood stakes into the ground at the 2-3 feet distance. Use at least eight wood stakes to get a circular or mirror design to be precise.
Use a marker, i.e., spray paint, to outline the mirror design by connecting the space between the stakes.
You should not have any flammable material at any time within the 2-3 feet distance when you are using your outdoor fire pit.
Remove the stones used to create the first layer of your firepit.
Dig a 4-6-inch hole in the section you demarcated with the marker.
Fill this hole with the crushed gravel. The purpose of gravel is to offer good drainage during the rainy season to keep your fire pit area dry.
Measure 2-feet inwards from the edge of the gravel-filled hole.
Place the blocks next to each other according to your design.
Use your level to make sure your stones are at the same height. If some stones are not in line, place crushed gravel underneath to get the right size. Finish laying the first blocks for your design.
Place the second set of blocks on top of the first row. Do this in an offset manner where you position a block centrally above the underneath block. Stack your blocks up to a height not exceeding one foot from the ground.
If you have a fire ring, insert it into the enclosure. Use crushed gravel to fill the excess space between the ring and the blocks. The ring prevents the stones from overheating. Alternatively, you can use fire-resistant blocks.
Use your patio stones to top off the stone blocks. Lift a patio stone and apply masonry adhesive between it and the block below to attach it firmly. Do the same to the remaining set of patio stones.
After you complete building your DIY wood-burning pit, let the adhesive dry before using it.
Wise Tips for Outdoor DIY Fire Pit Constructions
Building A DIY fire pit in your backyard or patio can be fulfilling. However, there are crucial things you must know before you make above-ground fire pits.
Your homeowners' association, local government, or title deed need consideration may restrict the design, location, size, and type of fuel you can use in your fire pit. In some cases, they may outlaw the construction of above-ground and ground fire pits. Some don't allow outdoor fire pits.
If you're living in a strict area, you might have to inform your local authority every time you lit a fire.
2. DIY Fire Pit Accessibility
When building DIY wood-burning fire pits, you're free to decide on your structure's design and size. Aim for a fire pit of about 36 to 44 inches in width. This will allow numerous individuals to sit around it comfortably.
If you wish to place your feet on top of your fire pit while sitting in an 18-inch high patio chair, build a 12-14 inch high fire pit. If you want to comfortably sit on the firepit wall, make your fire pit wall around 18-20 inches.
3. Position Your Firepit Well
Design your outdoor DIY fire pit in a way that will not inconvenience you. The spot you select to build your outdoor DIY project should not be prone to strong winds.
Winds may result in a fire outbreak. Also, ensure you can see your surroundings.
4. Do Not Use Water-retaining and Flammable Material to Construct
Heater pits will generally have inner and outer walls. It's better to build your inner walls using fire-resistant materials such as fire rings and fire bricks. Your exterior pit walls should be heat-resistant. However, you can use stones, masonry blocks, traditional bricks, concrete pavers, or heat-resistant outdoor stuccos.
Avoid porous materials like river rocks, compressed concrete blocks, and pea gravel. These may trap steam and explode, causing damages and injuries. Refrain from using flammable materials like plywood pellets.
5. Insert a Steel Ring in Your Fire Pit
Steel rings help preserve fire pits. They prevent the outer walls from excessively drying due to the high heat levels. They deter cracking, which shortens the life span of outdoor fire pits.
6. Determine the Fuel Source and Supply
Propane, ethanol, and natural gas burn without a residue. Besides, they are easy to control. However, natural gas and propane fire pits require installation by certified professionals. This means you will have to incur additional costs.
Outdoor DIY wood-burning fire pits don't require a lot of funds to get fuel. You can even collect twigs from your backyard. However, ground fire pits are mostly smoky and require unique engineering to minimize smoke emission. Also, the flames from a wood-burning fire pit are vast and difficult to control.
7. Investment Returns of Your Above Ground and Ground Fire Pits
Constructing a DIY above-ground or ground fire pit can cost you about $300. On the other hand, professional fire pit installations may cost about $1,400.
At one point, you may consider selling your home. Since people consider fire pits vital additions to their backyard, you can recoup 78% of the construction costs.
8. Observe Safety Measures Near Fire Pits
Having a fire pit blanket is crucial if you are installing or getting a fire pit. It will help smother any accidental fires in your backyard.
Top it up with a fire extinguisher on your patio. Check out for a multi-purpose fire extinguisher. That means it can eliminate fires from combustibles (class A), flammable fluid (class B), and electrical (class C)as well.
How to Design the Patio Seating Area Around Your Fire Pit
Once your outdoor fire pit is complete, design your seating area. Create a seating area that matches your backyard and fire pit's design and class.
Inbuilt Benches
You can include inbuilt benches directly into the design of your fire pit. When designing your patio seating area, there are a few things that will help you get a good experience.
Construct your bench with the same material you will use for your backyard and fire pit. This will create a harmonious look. Moreover, you aren't likely to experience cracking, resulting from differential expansion and contraction rates of materials.
Make a bench that will be in line with the design of your fire pit. For instance, have a curved bench in case you have a circular fire pit. For a square or rectangular fire pit, you will need a straight bench.
Limit the bench to occupy only half the space around your fire pit. The additional space can accommodate portable chairs or offer you adequate room to move around your fire pit.
Make a backrest for your inbuilt bench with a flat top for support. It will ensure you do not tire quickly. The top section of the backrest can act as a table where you can place a drink or even some potted flowers.
Consider having inbuilt tables at the end of your chairs. Use the same material as the patio, fire pit, and benches.
In-built Benches and Chairs
While in-built benches may appear classy, they may not offer adequate space for all your guests. Others may find it difficult to sit on them due to medical conditions. Therefore, consider adding cozy chairs for comfort in such situations.
When using your inbuilt benches and chairs;
Have ample room between the chairs, a table, and inbuilt benches to enable easy movement around the fire pit.
Position your chairs in a way that angles towards the center of the bench. This improves communication with people seated on the opposite side of the fire pit since you can see each other.
If your chairs are slightly far from the inbuilt table, get one small table and put it in between.
Match the cushions on your chairs with those on your inbuilt benches for a harmonious appearance.
Patio Furniture and Chairs
This is ideal for those without above-ground and ground fire pits. You can still use them in the inbuilt fire pits, though.
Pros of Using Portable Backyard Furniture
You do not have to spend so much energy and time to design and build them. You can buy ready-made furniture.
Portable backyard furniture is relatively cheaper than inbuilt benches.
Some options, like sofas, are cozier than concrete benches.
When Using Portable Furniture Around Fire Pits:
Decide on the number of chairs according to their sizes. Have just enough for all and adequate room to move.
If you want to position chairs closer, do so on the far section of your outdoor living area. This will allow people to get in and out of the house with ease.
Have one small table to cater for every two seats.
Position your chairs evenly around your fire pit, with each side having the same number of chairs. Place them to face one another to avoid compromising on intimacy. This way, you can see everyone.
Keep oversized patio chairs and tables far from the fire pit.
Final Words
It's time to go out and create an outdoor fire pit design that will complement your backyard. The trick is to match your patio and its furniture with the design of your fire pit.
Besides, you now know all you need before you commence your outdoor DIY pit project, so what's stopping you?