7 Best Wall Mounted Patio Heater Reviews [Ultimate Models]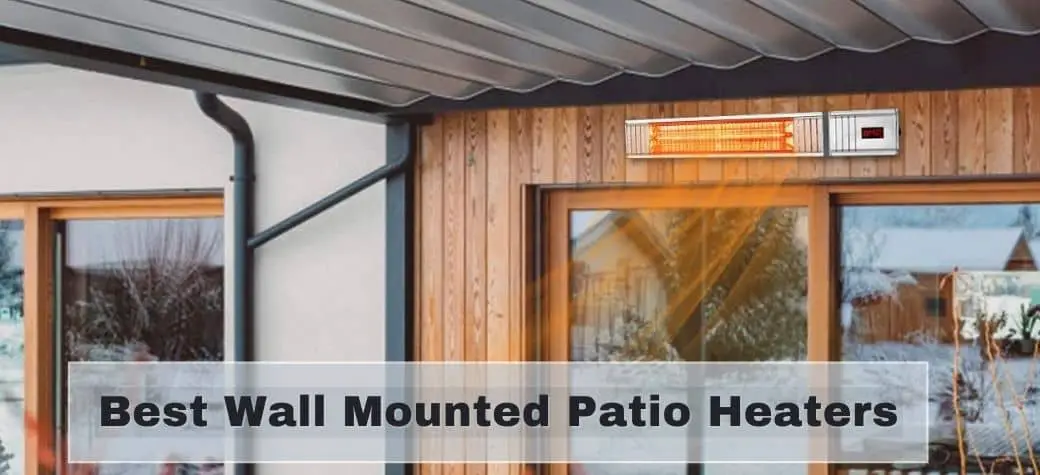 As an Amazon Associate, I earn from qualifying purchases. If you make a purchase after clicking on a link I may earn a small commission at no extra cost to you.
Did you know that getting a high-quality outdoor wall-mounted patio heater has numerous advantages? Apart from warming, you'll relieve your weary body of rheumatic and arthritis symptoms. Also, you'll have better blood flow hence a healthier circulatory system.
But with numerous types of wall-mounted patio heaters, it's difficult to decide the ideal one.
Winner
Our rigorous research proved that
Briza Carbon Infrared Heater
 is the best
. Besides wall mounting, it has a come-along stand, which gives you an alternative usage. It has a magnificent heat output, is energy-efficient, and has tip-over protection. Read on for a comprehensive look at our top list of quality products.
Wall Mounted Patio Heater Comparison Chart
| Image | Title | Brand | Buy |
| --- | --- | --- | --- |
| Top | Briza Carbon Wall Heater | Briza | See Price! |
| | TrusTech Wall-Mounted Space Heater | TrusTech | See Price! |
| | Dr. Infrared Heater 1500W With Remote | Dr Infrared Heater | See Price! |
| | Jiyu Wall-Mounted Electric Heater 24H Timer | Jiyu | See Price! |
| | Simple Deluxe Wall Mounted Heater | Simple Deluxe | See Price! |
| | TRUSTECH Patio Heater - Overheat Protection | TrusTech | See Price! |
| | Costway Wall-Mounted Patio Heater | Costway | See Price! |
1. Briza Carbon Infrared Heater with Stand – 

Best Wall-Mounted Patio Heater Overall
Briza is your best option for a subtle amber glow experience. The 1 500 watts patio heater has high-quality safety features like the metal grid, which prevents children and pets from accidentally burning themselves. Also, this electric patio heater automatically shuts down if you tip it to prevent fire incidences.
This patio heater has zone heating. This reduces energy consumption to lower bills. It minimizes energy usage by 30-50%. You'll enjoy using this patio heater courtesy of its easy-to-use remote control. You won't have to stand to turn it on or off.
This infrared heater comes with a height-adjustable tripod stand. It can stretch up to seven feet allowing you to set it in the perfect position. Plus, the tripod stand is sturdy and broad to provide firm support hence lowering tipping incidences.
The circular hot coil heating element facilitates even heat distribution. Moreover, this electric heater has a specially polished metal reflector. Consequently, it lowers heat loss and facilitates better distribution in the direction you want your infrared heater to face.
Pros
Automatic shutdown in case of tipping
A subtle amber glow that won't hurt your eyes
Zone heating for energy saving
Height adjustable tripod stand for flexibility
1500 watts ideal for indoor/outdoor use
Con
See Price on Amazon
---
2. TrustTech Wall-Mounted Outdoor Heater – 

Best Wall Mounted Patio Heater for a Super Quiet Operation
Enjoying warmth as you try to sleep is a fantastic experience. With this product, you'll have the best time due to its ultra-quiet operation. It is made of high-quality aluminum for longevity. Due to its state-of-the-art construction, it boasts of ETL certification.
Moreover, this infrared heater has an automatic shutoff feature. If your room temperature rises too high, it automatically turns off. Hence, you can sleep without worrying about waking up to turn it off.
Installing this electric heater is effortless. Using it is equally a breeze courtesy of its long-range remote control and bright LED. You can change your heater's temperature, turn it on or off from your sitting position. Besides, you can set your timer between one to 24 hours.
Finally, the electric heater uses 1500 watts. Therefore, it's excellent not just for indoor space heating but also for warming your front porch and backyard.
Pros
Auto high-temperature shutoff for energy efficiency
1 500 watts ideal for indoor/outdoor use
Effortlessly installable
Remote control and bright LED to ease use.
A silent operation to avoid activity disruption
Con
See Price on Amazon
---
3. Dr. Infrared Heater – 

Best Wall-Mounted Heater for Comfort
This product offers you such a stress-free experience. Just plug it into your 120V power supply, and you are ready to use it. The come-along mounting bracket minimizes your installing expenses.
Notably, this electric patio heater with remote control also has a bright LED display. These allow you to change your heat setting without getting up. Besides, it has three heat levels(900W, 1.2kW, and 1 500 watts). Thus, it allows you to decide on the ideal temperature depending on the weather conditions. Not to mention, it's excellent for both indoor and outdoor usage courtesy of the powerful heat output.
Moreover, it features sturdy aluminum construction that ensures high weather-resistance. Plus, it has an odorless and quiet operation for the most pleasant experience.
Pros
Odorless and noiseless working hence comfortable
1.5kW operation to suit outdoor and indoor use
Come-along mounting bracket to lower costs
Sturdy weather-resistant aluminum construction
Bright LED and remote control for effortless usage
Con
See Price on Amazon
---
4. Jiyu Outdoor Electric Patio Heater – 

Best Wall Mounted Patio Heater for LED Display
Besides the brilliant silver and black finishes, this patio heater features a bright LED display. It complements your décor while allowing you to read the temperature from far effortlessly. Moreover, it comes with a long-range remote control that permits usage as you relax.
This electric heater features three heat levels (500W, 1 kW, and 1 500 watts). These offer flexibility allowing you to set your heat depending on your warmth needs.
Additionally, it utilizes carbon fiber tubes for heating. Its swift operation allows you to feel the heat within three seconds. Simultaneously, it facilitates better heat conversion(95%) with a reduced consumption rate(40-60%). Thus, you enjoy ample heat while spending less on your energy bills. Plus, carbon tubes ensure ultra-low-noise operation for peace.
The patio heater features a 24-hour timer allowing you to set when you want it to turn off automatically. Hence, you can sleep without any worries and at a conducive warmth level.
Its installation is swift. The patio heater comes with four mounting brackets, a guide, and fasteners. Plus, it features overheat protection for user safety and low energy operation. Its sturdy aluminum make offers corrosion resistance and ETL certification.
Pros
Carbon fiber heating system for swift operation
Ultra low-noise operation for peace
Bright LED display and remote to ease use
Three heat levels ideal for all weather conditions
Overheat protection for safety and energy efficiency
Con
See Price on Amazon
---
5. Simple Deluxe Wall Mounted Heater – 

Best Wall-Mounted Patio Heater for Effortless Operation
With its 1.5kW output, this product offers you swift heating in three seconds. It provides ample warmth making it suitable for both indoor and outdoor spaces.
It features overheat protection, thus turns off automatically in case it overheats. As a result, it ensures no fires, and the patio heater remains in excellent working condition.
It comes with a remote control to ease turning it on and off or temperature adjustment. Also, it features a timer function that will automatically turn it off after two hours. Consequently, you can set it and go to sleep without worries.
Furthermore, this sturdy patio heater has an ETL certification and a two-year warranty. It has quality construction yet still offers full coverage for any mishaps with a two-year warranty.
Pros
Swift heating in three seconds
Overheat protection for longevity
Remote control for effortless on and off
Timer function for automatic shutting
ETL certification and a two-year warranty
Con
See Price on Amazon
---
6. TrusTech Patio Heater – Adjustable 1500W Infrared Heater – 

Best Super Quiet Space Heater in/Outdoor
If you want a super quiet patio heater with a super-fast operation, TrusTech is an excellent choice. You can feel its warmth within a second of turning it on.
Notably, it comes with a remote control to set your ideal warmth level. Plus, the bright LED display temperature, timer, and power indicator is effortlessly readable from far.
It features two heat levels(750W and 1 500 watts). Therefore, you can lower your energy consumption during warmer conditions by setting it lower.
This outdoor wall-mounted patio heater utilizes red carbon fiber tubes. Given this, it filters out intense lighting to deter glare effects. Also, it facilitates energy efficiency and silent operation.
Additionally, it features overheat protection. Consequently, it ensures you are safe from fire or the heater's destruction. It also has a 12h timer option for automatic shutoff. These two features allow stress-free sleeping experiences.
This wall-mounted heater comes with four brackets and fasteners, thus cost-effective. Plus, it takes four simple steps to install it.
Pros
An easy-to-use remote control and bright LED display
Different heat levels ideal for numerous weather conditions
Timer option for automatic shutting
Super fast and super quiet heating in a second
Overheat protection for user safety and heater longevity
Con
Only two heat levels hence less flexible
See Price on Amazon
---
7. Costway Wall-Mounted Patio Heater – 

Best 24h Timer Wall Mounted Heater
Costway is a patio heater that allows you to sleep stress-free. It has a 24h timer that allows you to set when to shut off automatically. Plus, it features overheat protection for your safety and the heater's longevity.
What's more, this patio heater features three heat levels(500W, 1kW, and 1.5kW). So, you can use your energy depending on how much warmth boost you need.
The four-button remote and bright LED display ease usage. You can adjust your temperature, turn it on or off while relaxing. Plus, it takes only three seconds to feel a heat change.
This wall-mounted heater has a sturdy aluminum alloy encasement for longevity. Also, it comes with four brackets and installs effortlessly.
Pros
Fast operation in three seconds
Triple heat modes for better flexibility
Timer feature and overheat protection for safety and convenience
Bright LED and four-button remote to ease usage
Sturdy aluminum alloy plastic encasement
Easy to install due to manual and come-along hardware
Con
The low heat function may not put out much heat
See Price on Amazon
---
Buying Guide
When buying wall-mounted patio heaters, look for:
Output Capacity
Consider the area in square feet that you want to heat when buying a wall-mounted outdoor heater. If you want to heat many square feet, go for a patio heater with powerful heat output. A patio or any other open outdoor area requires a more powerful heater than an indoor space. Powerful wall-mounted heaters are more flexible and allow you to use them in many places.
Confirm the flexibility of your outdoor heater. The more flexible the heat settings, the more comfortable it is to adjust wall-mounted heaters.
Effortless Usage
Get a wall-mounted outdoor heater with excellent usage features. Things like remote control, bright LED display, timer options, and overheat auto-shut is crucial. Wall-mounted heaters with these features save your energy and keep you safe.
---
FAQs
Are Wall Heaters Better Than Baseboard?
There isn't a straightforward answer to this question. However, you can decide what works for you by comparing the advantages of one over the other.
Merits of a Wall Heater Over a Baseboard Heater
These patio heaters heat spaces in a short while. Their fans facilitate faster heat spreading. Baseboard heaters take ½-1 hour to heat your room and rely on convection to facilitate heat transfer.
These patio heaters are more compact than baseboards. Thus, they allow you to arrange your furniture better.
Merits of a Baseboard Heater Over a Wall Heater
Baseboard heaters have a longer lifespan than the latter. They last over 20 years while wall heaters last 8-12 years.
Baseboard heaters have a super quiet operation hence ideal for bedroom use. Although wall heaters are less noisier than a standard refrigerator, the fans make some noise.
Baseboard heaters function at lower temperatures hence cooler to touch. Wall heaters operate at higher temperatures thus may burn you.

Do Wall Heaters Need to Be Vented?
The wall heater design you have determines whether you need venting or not. The initial heater models were natural gas and propane heaters. In a closed space, propane and natural gas heaters lead to carbon monoxide production, which is lethal. So, natural gas and propane models require ventilation to let out the poisonous gas. Electric wall heaters don't pose this risk; hence don't need venting.
Can a Wall Heater Catch Fire?
Yes, it can catch fire. Although it features no open flames, flammable materials around it can cause a fire. Keep out things like alcohol, cleaning liquids, and paper from your wall heater. Also, while arranging your furniture, maintain the standard clearance distance.
Blown fuses may overheat, resulting in a fire. Consider having ceiling-mounted infrared heaters in your home. While you can still enjoy the warmth, a ceiling-mounted infrared heater is unlikely to come into contact with flammables.
Do Wall Heaters Give Off Carbon Monoxide?
It depends on the type of heating appliance you are using. The production of carbon monoxide results from the combustion of fuels. Thus, if you are using an electric heater, you aren't in danger of carbon monoxide production. However, gas wall heaters produce carbon monoxide, so they need ample ventilation.
You can vent via your ceiling or from an outside wall. This is quite an expensive venture. Therefore, you should consider electric heaters to avoid incurring extra costs.
Are Wall Heaters Dangerous?
How you care for your wall heater and its fuel source determines its level of safety. When handled carelessly, they are dangerous.
a) Carbon Monoxide Poisoning
A natural gas or propane heater burns combustible fuel hence leads to carbon monoxide production. If you don't have adequate ventilation, this poses a health risk or death situation!
Even if you don't die from carbon monoxide poisoning, you may end up with conditions like cerebral hypoxia. Some symptoms you may experience include;
Short-term forgetfulness
The inability for body movements
Concentration loss
Poor judgment
If you stay in your carbon monoxide-laden room for long, you may end up with permanent head damage. You may also have a comma or seizure. It is best to get an electric infrared heater model for indoor use, especially if you have an old home.
b) Fire Risk
Despite lacking open flames, wall heaters can still result in a fire incident. Keep away flammable substances from your heater. Besides the commonly-known flammable materials, keep out:
Solvents
Cleaning detergents
Paint thinners
Your furniture arrangement around your wall heater also affects fire safety. Closing in your heaters area hampers air and heat flow. If your furniture heats up excessively, a spark may result in a fire. Make sure you maintain some clearance as recommended by your manufacturer. It will prevent a fire hazard.
Ensure there's a correct power source operation. Blown fuses, hot plugs, and sockets may cause a fire. Also, make sure there are no open wires causing sparking. Ensure you don't overload your sockets.
Do Wall Heaters Use a Lot of Electricity?
Electric wall heaters are excellent for heating. You don't have to wait for refills or search tediously for fuel. However, they require too much electricity.
Still, you can use your heater sparingly. Undoubtedly, you won't need excessive heat while cozy under your blanket at night. Warming up your room before sleeping or using the timer function saves your electricity bills.
It requires a generous energy amount for the electricity to heat conversion. Using electric patio heaters is more expensive than using gas patio heaters. In the case of outdoor use, wood-burning methods are cheaper than electricity methods.
What Is the Best Wall Mounted Heater?
The best choice on our list is Briza Carbon Infrared Heater with Stand. Besides mounting, the come-along stand allows versatile usage. Thus, you won't need numerous wall-mounted patio heaters in several places. Take it wherever you want it to warm.
Also, it features adjustable heat settings, remote control, and a bright LED for convenience. Moreover, it has tip-over auto-shut, uses zone heating for energy conservation, and has excellent heat distribution. You can still pick any product from our list for your space warming requirements as they are highly efficient.
---
Conclusion
With a sturdy and durable wall-mounted patio heater, you'll enjoy efficient operation for years. Our list of top seven wall-mounted patio heaters offers you more than your expectations. These wall-mounted electric patio heaters have easy-to-use remote control systems. Plus, the quality products feature variable heat levels that permit energy-cautious consumption.
Since all of these products are electric, you won't experience carbon monoxide poisoning. Also, only using them when necessary will lower your costs. Remember to keep away flammable items and ensure proper electrical connections.