Our chiminea vs. fire pit article helps you learn about the two. Which one is better, chimineas, or fire pits?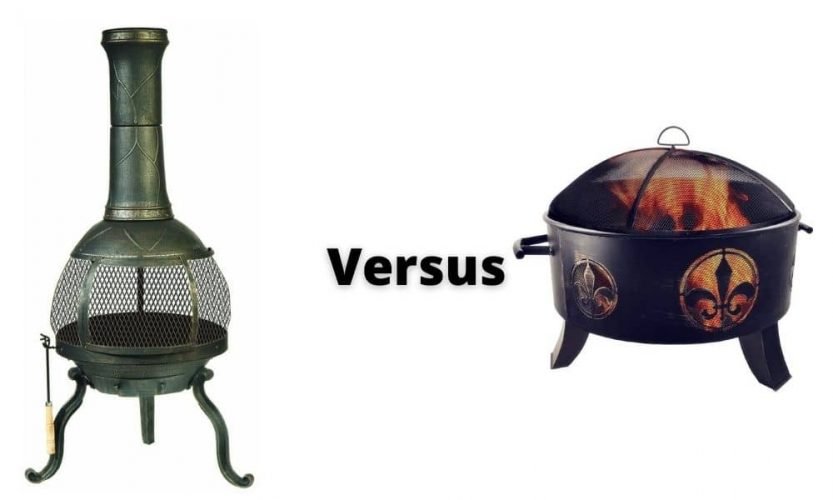 There isn't a precise answer on which one is the best option. However, the pros and cons highlighted below can help you make an informed decision.
Furthermore, these heaters have different types you should familiarize yourself with before settling for either a chiminea or a fire pit.
Which Is Better? A Fire Pit or Chiminea?
To determine which one between the two is better, we've to look at the merits a chiminea holds over a fire pit and vice versa.
Price
Chimineas are pricier than fire pits. Their price range is between $150- $600, depending on the material used.
Fire pits are affordable, ranging from $70 to $150. Fire pits come in numerous sizes and shapes.
Style and Beauty
Chimineas have a warm and inviting outlook. Since only one side is open, you will have to gather around the opening for unidirectional warmth.
Fire pits feature a rustic appeal. They emit heat from any side. Hence they can serve many people.
Usability
A fire pit is more comfortable to use than a chiminea. After you load firewood, you can light it and get the fire going.
When using a clay chiminea, you should place gravel, sand, and bricks at the bottom to hold the fire.
Cleaning Process
A chiminea needs constant ash removal for hotter flames. The complexity of this cleanup process increases with the belly size of your chiminea. Using an air blower can ease things for you, but this translates to additional costs.
It is easier to remove ash from fire pits because they are open. If you have a freestanding pit, you can carry it and directly empty the ash in your dumping site.
Storage
Chimineas are quite heavy; hence most owners decide to leave them outdoors all year round. You will need a protective cover if you want to put your chiminea outdoors for a long time.
You can effortlessly store your freestanding fire pit under a shade or garage. If you have a ground-dug fire pit, find a protective cover.
The Different Types of Chiminea and Fire Pits
Before deciding between a chiminea or a fire pit, you have to determine the ideal subcategory. Here is the breakdown:
Fire Pit Types
1. Wood Fuel Fire Pits
Wood fuel fire pits are almost similar to having a campfire at your place. Wood burning pits offer a real smoke experience and a lot of warmth.
Its subcategories are:
Wood Fuel Grill fire pits- you can cook and grill on these. It comes with a grill gate for attachment over the flames.
Outdoor fireplace- It resembles an indoor fireplace and can be stationed or portable.
Stone or Brick Fireplace- It is similar to a DIY fireplace. You can use any bricks, blocks, or stones to make it.
Wood-burning pits require high maintenance. You have to chop or buy wood for your pit. The wood must be stored in dry areas for continuous use.
2. Propane Fire Pits
A propane fire pit is convenient as it doesn't need wood or refilling gel. It is often large with impressive designs of glass, faux wood, or rock pebbles.
Common propane fire pit includes:
Portable propane fire pits- these allow you to cook, warm yourself, and carry them around. Some will have wheels, while others are light and portable.
Copper fire bowl pits- these are some of the fanciest options. The high melting copper offers longevity, making the fire bowl expensive.
Fire pit tables- these resemble a table with a rim to surround the fire. Their wide ledges ensure your children are safe by preventing close contact with the flames. You can also place your drinks and food on these ledges.
As efficient as propane pits are, they have their cons too.
Firstly, they are expensive.
Secondly, fuel can run out at any moment.
Finally, meals cooked on them are not as flavorful as those from wood fires.
3. Gel Fuel Pits
Common gel pits are:
Gel fuel logs- They offer the look and feel of a real fire but conceal the gel fuel holders within the logs.
Tabletop fire pits- they are small hence portable and usable indoors or outdoors.
The pros of using gel pits are:
They are clean and do not produce smoke or a pungent smell.
They are versatile and easily portable.
They are beautiful and convenient.
On the downside;
Gel fuel pits give off less warmth than other types of fire pits.
Finding gel fuel is challenging; hence you may need to order online.
4. Natural Gas Fire Pits
Natural gas fire pits are permanent fixtures in your backyard. You can design it as;
Sunken fire pits- Built in the ground or patio. They need extra caution due to the closeness of flames.
Round, square, and tabletop fire pits-These have a raised pit and use bricks, stones, copper, etc.
Their main advantage is that they are usable at any time, as natural gas never runs out.
The cons of using natural gas fire pits are;
Installation costs may be high, especially in remote areas.
You can't move the fire pit.
Chiminea Types
The chiminea material determines its usefulness and durability.
1. Clay Chimineas
They are constructed from clay by joining two pieces at a seam followed by kiln drying. Clay chimineas can be used for traditional bread baking and ambiance.
The disadvantages of clay chimineas are;
They are heavy and prone to cold and wet conditions.
Since the chimineas clay is weak at the seams, they can break if mishandled.
A clay chiminea needs monthly seasoning and sealant application to avoid cracks that result from high heat.
2. Copper Chimineas
They offer an antique look and are quite expensive. They develop a greenish tint over time. Also, their rivets wear out hence need repair once in a while.
3. Cast-Iron Chimineas
A cast-iron chiminea is heavy. Moving them is tedious and dangerous; hence you should keep them stationary.
They are more weather-resistant and require less maintenance than a chiminea clay unit. If you maintain a cast-iron chiminea well, it can last for your lifetime.
4. Sheet Metal and Stainless-Steel Chimineas
They are affordable and readily available. Stainless-steel chimineas come in many designs to suit you. You can use them outdoors since they are cheaply replaceable.
5. Cast-Aluminum Chimineas
These are a favorite to many buyers. The pros of using cast aluminum chimineas are;
You'll incur low maintenance costs.
It has both the wood fuel and gas fuel options.
You can warm your indoor spaces with gas options provided there is adequate ventilation.
They are lighter than cast-iron or a clay chiminea.
They don't rust; hence your deck will be stain-free.
You can choose a size and design that suits your needs.
The only disadvantage I can think of is, they are more expensive than some chimineas.
Is a Chiminea Safer Than a Fire Pit?
Generally, a chiminea is safer than a fire pit. In a chiminea, flames go up and out of stock hence better burning control. Flying sparks won't trouble you allowing you to relax and enjoy the ambiance.
Besides, the air gets pulled upwards and out, creating a draft that moves the smoke out through the stock. This ensures you are safe from respiratory infections. Plus, controlled smoke let-out avoids irritation of people with respiratory diseases.
However, a chiminea is hot to touch during and after use. If you don't proceed with caution, you may burn yourself. A freestanding chiminea may also topple hence a risk to kids and pets.
On the other hand, fire pits are open; hence sparks can fly in any direction. Smoke from a fire pit moves according to the wind direction. Occasionally it may irritate you and your guests.
Do Chimineas Put Off Heat?
The heat from a chiminea is much lower than from a fire pit. For starters, the fire pit offers a 360-degree viewing allowing users to sit all around. Because of the extensive coverage, you can use a fire pit when you have large get-togethers.
Secondly, you can use as much fuel as you want in pits fire heaters. You can determine the heat emanating from a fire pit. However, large unruly fires can cause accidents.
Chimineas are not open all around, forcing users to sit close to the opening. Since they have restricted air access, their heat production rate is slower than in a fire pit. Hence, there is a delay in heat production and transmittance.
What Is Best to Burn in a Chiminea?
Several fuel types are compatible with chimineas. Charcoal briquettes require less effort as they are self-lighting. When using charcoal, leave the chiminea burning for 20 minutes before you commence.
Wood produces the fewest sparks, especially hardwoods. Some chimineas use propane and have detachable inserts allowing you to use wood too.
Finally, you can use alcohol gel that burns neatly with water as its only by-product. This gel is convenient for indoor heating. When indoors, don't cook or interchange fuels on your chiminea. These could cause smoke buildup and asphyxiation.
Conclusion
What is your decision on chiminea vs. fire pit? You can choose a chiminea if you want safety first. If you're operating on a low budget, then a fire pit can serve many people.
Remember, before settling on an option, consider both advantages and disadvantages.