The idea of having a party in a tent is exciting. The thought is even better if you plan your wedding party in the fall.
After a successful profession of love and vowing to stay together through thick and thin, you head to your evening party. However, your guests might get cold. So, how do you ensure that they remain warm?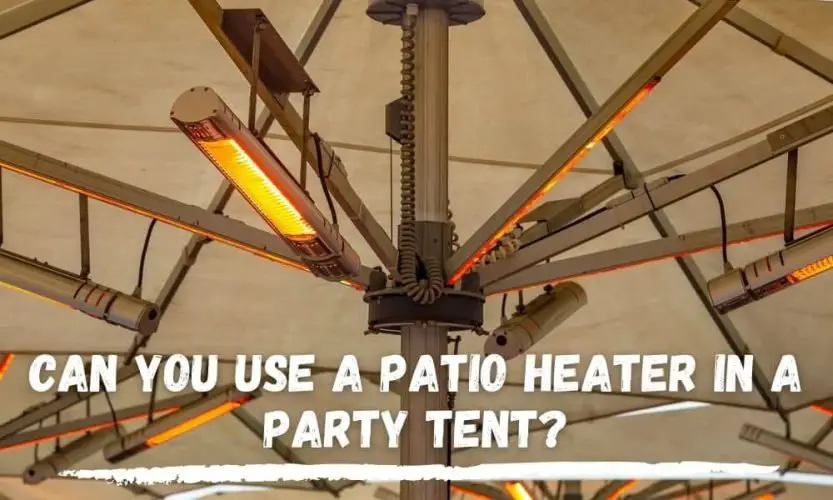 Patio heaters can be safely used to heat a tent with the help of a few space heating guidelines, which we will comprehensively discuss in this article.
Can You Put Heaters in Tents?
Yes, you can put a heater in a tent and enjoy your event under comforting warmth, even in the cold weather. However, you have to consider a few safety issues.
Placing a catalytic patio heater in the middle of your event tent meets the clearance requirements for sufficient airflow. This clearance is vital since the propane tanks are designed to fit the base of the heater.
If you decide to use an electric patio heater in your wedding tent, consider placing it in a neutral area to avoid electrical issues that would result in fires.
Features to Look for in a Tent Heater
Different patio heaters are designed for different purposes. For this reason, you must consider the following features when choosing a patio heater to use in your event tent:
Incorporation of a Tip-over Switch
A tip-over switch will detect movement when your heater is either intentionally or accidentally moved immediately after switching off your space heaters.
During winter weddings, people have fun and generate warmth simultaneously by dancing. Sometimes wedding guests will lose control and accidentally knock things over.
Others will even dance in the rain. The wind can also push cause damage. A tip-over switch will automatically turn off the electric patio heaters, preventing a fire catastrophe.
Automatic Cut-off Function
Consider using event tent heaters with automatic cut-off that will switch off the patio heaters when left uninterrupted for a couple of hours.
It is common for people to get carried away by fall wedding fun, forgetting to switch off the patio heaters heating the pole tents. If an impure fuel source were used to run the heater, wedding guests would likely get harmed by prolonged exposure.
Temperature Sensor
Continuous running of a device, heating devices included, may result in overheating, damaging the device. To avoid such losses, keep your wedding guests warm by using devices with temperature sensors that switch off the patio heaters if it overheats.
Easy Heater Operation
Efficient propane heaters can be operated with ease. Carefully read the instructions provided by manufacturers to determine if you will be in a position to use the tent propane heaters safely.
What Type of Heater Can You Use in a Tent?
The guests at your wedding need to enjoy the event without fear of intoxication or any other harm resulting from inappropriate heating. The air inside your tent needs to be both warm and safe.
Below are three types of heaters you can use to make sure your wedding guests are as comfortable as possible.
Fixed Natural Gas Mushroom Heaters
Mushroom heaters are efficient for tent use since they provide even heat distribution.
These natural gas heaters are used in heating the air by utilizing infrared heat mechanisms. You don't have to worry about accidental fires when using it since the design does not accommodate open frames.
The guests at your event will be pleased with its aesthetic appearance since it's small in size.
Portable Propane Mushroom Heaters
These heaters can be conveniently used in any location. When the area further from the propane heater gets cold, you can quickly move your propane heater to that location.
They are safe to use as they don't have an open flame. One thing to note for safety: place the propane mushroom heaters close to openings to have good air circulation.
Electric Mounted Heaters
An electric mounted heater is safer as it has fewer chances of being tipped over. You can add an electric heater to your shopping cart at your wedding shopping since it's small and requires less clearance from the roof.
The warmth emitted from it spread sideways, unlike in other heaters, where heat spreads upward. Mount the heater a half foot from the tent roof firmly to ensure it doesn't fall, and it will serve you right.
How Do You Heat an Outdoor Party Tent?
There are several ways you can make sure your party guests are warm throughout the party. Use the following party heating tricks:
Utilize Sidewalls
When getting a tent, consider one with sidewalls as it is warmer compared to open wedding tents. You may avoid the tent side panels due to the view you are getting. However, clear tent sidewalls will act as a beautiful backdrop giving your party beautiful golden colors during the evening golden hour.
Select the Right Size of a Tent Heater
If you want to know the level of heat each heater provides, check its output. Using a heater with less output means the level of heat will be below.
The output is measured in BTU and may vary from 20 000 BTU to around 12 000 BTU. Different rental companies offer tents of different sizes. When getting equipment from party rentals, consult with the tent renter, and find out the size and number of the heaters you will need.
For a tent with 30 by 40 dimensions, you will need one heater; 40 by 60 will need two heaters to ensure the whole space is warm enough.
The propane fuel tank should always be out of the tent to ensure safety in the tent. Also, ensure there are enough vents in the tent to ensure all the hot air inside has a way to come out.
The heater will work better if one side of the tent is left open. This ensures there is enough supply of oxygen.
Use an Appropriate Patio Heater
A patio heater is another option, it doesn't need electricity, and it provides a 10′-12' warmth circle.
The disadvantage is it uses propane, and the propane tank is found on the heater's base. Therefore, it needs enough clearance to ensure adequate circulation of air.
Conclusion
Cold weather conditions can limit people from having maximum fun, but this is no longer an issue with the right patio heaters.
All you need is to ensure people's safety by allowing proper air circulation to avoid suffocation.